TEDx events have always been the epitome of what wonders qualitative, meaningful, and intuitive stage design can do for your event's success. TED talks have inspired millions of people to go above and beyond the limits of human potential. What TED and TEDx events have done over the last few years has driven people to action in ways that the average human being can only imagine.
One question that has befuddled many is how these talks have had such a large impact. With the actual impact of these talks running into millions, one can only wonder if the secret behind a viral TED talk is more than just the brilliant speakers and their even more brilliant ideas.
Looking into the production of a TEDx event, one would find an answer to this. Stage design and set curation form a major part of the TEDx experience, as each TEDx event is based on a theme that cannot only be communicated by its speakers. The stage and production play a major role in enhancing not just the retentive value of a TEDx talk, but also the thematic value of the event itself.
In providing excellent ambient experiences to their patrons, TEDx events usually stand out. Rightfully, a measurable amount of their immense impact can be attributed to how effectively the stage elevates the thematic value of the event.
We've handpicked some of the best TEDx stages in the recent past to show you exactly what we mean.
Theme: Seeds of Innovation
TEDxEdmonton 2011 had a stage that clearly demonstrated how seeds of innovation, little pieces by themselves, have the power to make path breaking discoveries. The stage, which looks quite like a jigsaw puzzle, shows how all the little pieces (symbolic of the seeds of innovation) come together to form a graphics that alludes to new power and energy.
Famous TED talks from the event: How to engage in better small talk by Minister Faust (500,000+ views)
TEDxConcordiaUPortland (2012)
Theme: Becoming Extraordinary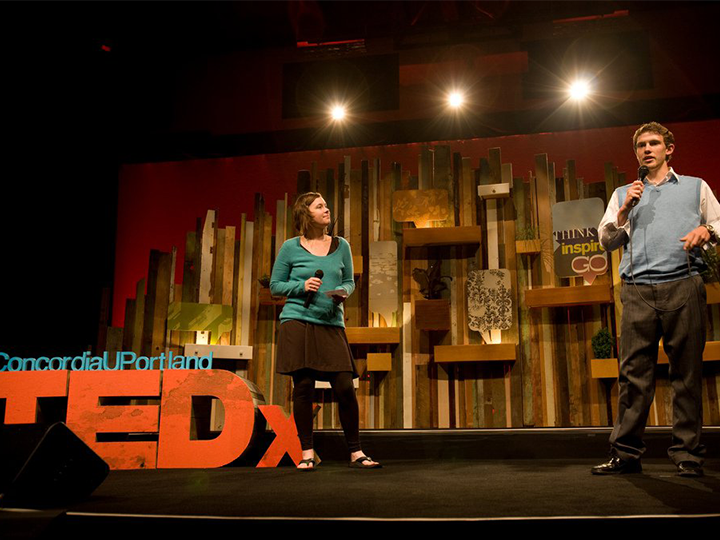 TEDxConcordiaUPortland created a stage that was in line with its theme – "Becoming Extraordinary". Using a stage with multidimensional elements and depth, yet made out of simple wooden elements and table drawers, the setting voiced the message loud and clear – that greatness stems from several seemingly ordinary pieces.
Famous TED Talks from the event: How to Use One Paper Towel by Joe Smith (over 2 million views)
Theme: Celebrating Nature
Sometimes, simplicity pays off – or at least did in the case of TEDxJacksonHole. The event, conducted on the final day of season in the Yellowstone National Park was one of the few TEDx events to not have a defined theme. Keeping even the theme of the event quite simple, the organizers decided to make TEDxJacksonHole a grand celebration of nature and the wild.
Famous TEDx Talks from the event: Ski like a girl by Lynsey Dyer
TEDxKhartoum has always been a special event in the TEDx lineup primarily because of the region it intends to serve. Sudan, one of the world's more impoverished nations, is in dire need of effective solutions to various problems. TEDxKhartoum, themed "Knowledge into Action", used a highly cost effective stage that symbolized one most important thing – that knowledge in action means energizing simple resources towards complex functioning.
Famous TEDx Talks from the event: Embracing to my Braids by Sara Akasha
Theme: Creating the future. Today.
TEDxBratislava decided to go right back to the drawing board with their set design – literally. Using a set that looked like it was an all-chalk drawing, the set effectively conveyed how using the blueprint of the present, one could begin to create the future.
Famous TEDx Talks from the Event: Music as a key to understanding reality by Bijan Khaddem-Missagh
Theme: The Wisdom of Play
Using a set design that could've only come straight out of a creative imagination, TEDxBloomington used a stage set up that gave the impression of being the brainchild of a toddler. This unconventional set up also added a few never before seen design tweaks that made it stand out – for instance, losing the big red carpet that is usually common at all TEDx events. The brightness of the overall set-up gives an impression of purity and wisdom in something as unconventional as play.
Famous TEDx Talks from the Event: The Happiness Advantage by Shawn Achor (over 1 million views)
Believe it or not, TEDxSingapore did not have a stage set-up at all. Instead, the organizers decided to take the ambient experience of this TEDx event even further and asked its patrons to directly get involved in designing the stage. All patrons were asked to bring one red colored item to the event, which would eventually be used to set up the stage. The end result: A miniscule stage with a mighty impact.
TEDx talks from this event are yet to be made publicly available.
Theme: Building Ideas for a Better World
TEDxGateway is one of the most awaited TEDx events in the world, and is the biggest TEDx event in South Asia. Naturally, they have decided to position themselves as close to TED as possible, and have adopted a very similar theme to TED. The conference, held in Mumbai's Jamshed Bhabha Theatre uses a simple, visually calm stage to create an atmosphere of quality thinking.
Famous TEDx Talks from this Event: A well-educated mind V/s a well formed mind – Shashi Tharoor (900,000+ views)
Theme: All or Nothing
TEDxBangalore used a simple, yet highly complicated to build stage that was served as the perfect example to demonstrate its theme. To put it in a sentence – A beautiful plant can grow from a barren rock if it gives its all to growing.
TEDx talks from this event are yet to be made publicly available.
Theme: The Swiss Alps (Stage Theme)
The Swiss Alps, which form a significant portion of Lausanne's geography, were reimagined and reconstructed in TEDxLausanne's own way. One of the most complex TEDx stages of all time, this stage was highly effective at making the attendees feel right at home, all in the interest of guaranteed, solid impact.
TEDx talks from this event are yet to be made publicly available.
Comments
comments