And the progress continues…. With the commitment to help organizers deliver an exceptional event experience to their attendees, we were looking for what was missing after releasing our last major update. Thank you, to all of you who gave us feedback on where we could improve. We figured we need to deliver an exceptional experience through our platform to you all organizers.
Following updates are more of focused on the visual elements and workflow elements that you might not want to miss:
Groups & Membership Management:
New interface and modifications have updated the visual & workflow experience of Report targeted menu options for the

Group product. Visualize weekly or monthly data with the help of graphs, check for membership statuses of all the members through graph view as well as table view. In the table view, you can view each member's information by clicking on the Manage icon on the right. Make your analysis of group activities and memberships quicker and easy with the help of quick search and filtering options.


Introducing new membership discount type. Now you can give flat discounts on membership renewals and newly purchased memberships. The new interface of discounts tab under

Group

Setup now allows you to filter (based on Name, code & date), choose the discount type (Flat & Code) and sort data (newest & oldest) to track records in a more elaborate & smarter way.
Events Ticketing/ Registration:
New UI for buyer list in Events Ticketing/ Registration has simplified the management of new as well as existing event ticket/registration buyers. You can now download selected buyer records as well as all buyer records at once. Click on 'i' icon from from the manage tab to view details of each record.
New UI of attendees list now allows you to track ticket specific attendees data. You can create ticket specific attendee registration forms from event setup menu option and visualize the records using list view from Attendees List option under Attendees tab in the left menu.
Tax options of the ticket sales have been updated with GST details for Indian Event Organisers. The system will capture the GST details of the buyer.
New UI of Donor list now allows you to track ticket specific Donors data. You can create ticket specific Donors registration forms from event setup menu option and visualize the records using listview from Donor List option under Attendees tab in the left menu.
Now you can conveniently track Transaction ID and GST information from the Buyer list that you have added in ref no. option in Pending Offline Payment tab.
The fields that are added in attendee form for a particular ticket will now reflect in the sample excel sheet. You can now upload the guest attendees data with those fields in the Guest Registrations tab under Attendees menu.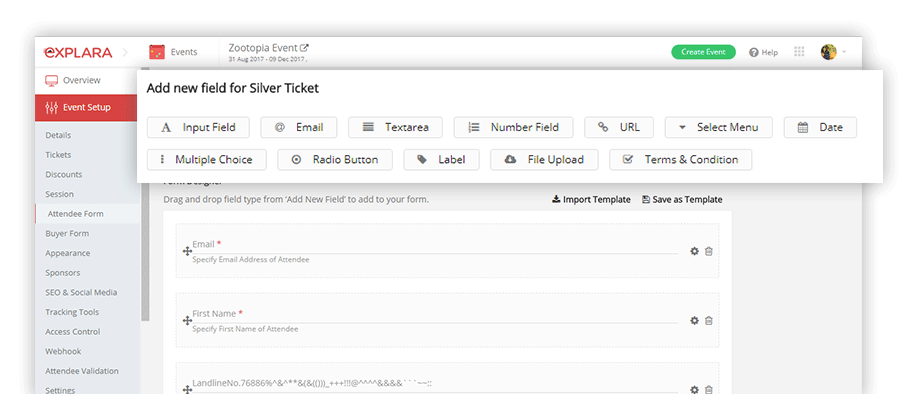 You can now see the graph to visualize the amount of tickets sold and remaining tickets according to ticket types in the overview page.
Discount bar chart has been added to the overview page for better tracking.
A card showing revenue from Mode of payment, refund, gross & payout on the overview page.
Survey:
The new Survey form interface has absolutely simplified the form creation. Now you can drag and drop relevant form fields to create survey forms faster. Survey forms function smoother than before with the new visual changes.
Now you can visualize the survey reports in the newly introduced graph view. Make better decisions with smarter survey analysis.
Badge Design:
Badge Design Product is now live in the dashboard. Design badges for your events, conferences, and get them printed/print on-site.
Contact manager:
To send campaigns to particular set of contacts, now you can select specific contacts or All the contacts and add to a list. While sending email campaigns you can select the list you have added the contacts in and send emails to them.
Phew! You made it, what do you think about the new changes? Tell us in comments. Make your events successful using Explara, schedule a 20 minute Demo today and let us show you how!

Comments
comments