"Without leaps of imagination or dreaming, we lose the excitement of possibilities. Dreaming, after all, is a form of planning." – Gloria Steinem
When it comes to making any event a roaring success all that is needed is these flights of imagination. For without dreaming and aiming beyond the ordinary, how can you hope for the attendees to remember your event for days to come? For any such gathering of people, it essential that you take care of the little things! In the long run, these small efforts will ensure that your events are attended, loved and remembered by all. Go that extra mile; following are just a few examples of how you can do so.
Use the Social Media to your advantage
With the availability of various online media that can report information on the go, there is no dearth of options to use to your advantage. Get a social guy on board in order to use each of the channels for its own specific purpose. For Eg: You can use Instagram to create a pre-event buzz, snap chat for live videos, Facebook for promotions, contests, and so on.
Stagger the event information
Research suggests that it helps if you stagger the information of your event meaning that you do not give out all the details at once. Start with the smaller, basic stuff like date and venue and then slowly gather traction so that you reach a larger audience with all your further communications.
Use Mobile Content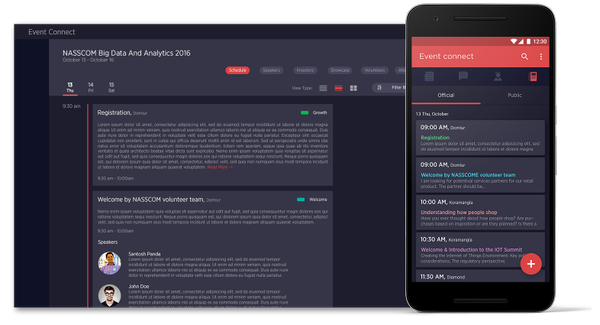 It is a sure fact that all your event attendees might not have the liberty to access all your online content. It is, therefore, a very good idea to use the mobile content as far as possible. In case your event involves online bookings for stay and events, you can partner up with various apps to do the same and it makes keeping a track of interactions easier for you as well.
Have some ice breaking games
Once you get all your guests in one place, you can hire a Master of Ceremonies in order to create an engaging platform for them. This, he can do by having some ice breaking games, this will ensure a lighter and more relaxed atmosphere for the event.
Get event entertainers
Keeping in mind the theme of your event, you can have some entertainers milling about with the crowds. Make sure that they do not obstruct the proceedings of the event and are restricted to the open areas like the cafeteria, banquet halls or the welcoming space.
Get a team of volunteers
Instead of having a huge workforce, get volunteers to work the event floor for you. Thisensures that you can have a larger team at your hands and it also gives the attendees a person to turn to whenever they are in a fix.
Have options to engage the volunteers as well
When it comes to having volunteers, the biggest question is; what's in it for them? And the easiest way to answer it is that you give them the option to attend all the talks, sessions, and discussions that interest them. Make sure that you give them an assurance that comes what may, their work will not obstruct their wish to attend the event and vice versa!
Go Live
In order to make sure that all the interested attendees can get a real time feel of the proceedings of the event, you can have a streaming option. This gives a larger dimension to your event and also makes sure that everyone is in the know. Live streaming can now be achieved very easily with the availability of various online platforms.
Personalise!
As far as possible personalize the event attending experience for all your guests. You can achieve this by having small questionnaires to be filled out at the time of booking itself. This will make all your guests feel special as they realize that the smallest of their requirements is being taken care of in the most special way.
Have an Event DVD
Finally, you can commemorate all the special moments spent at the event by sending out an Event DVD post the attendance. Ensuring recall and nostalgia, it will be a reminder, summary and a treasured memory of the event!
Comments
comments