The new era of Explara continues to evolve with smarter & newer upgrades. Explara's platform is strategically designed to help various event, conference, tradeshows, exhibitions, groups/ associations organizers around the world. Our unified platform not only helps with robust event planning & management but also to leverage the power of audience-driven communities.
Here are the updates we have made on the platform that makes for a robust event & group management experience:
Group & Membership Management:
– Now you create your own group in less than 2 minutes in the single-page flow.
– You can also create your groups in multi-page flow by filing information step-wise and you can go back to edit. Make sure you have everything in check.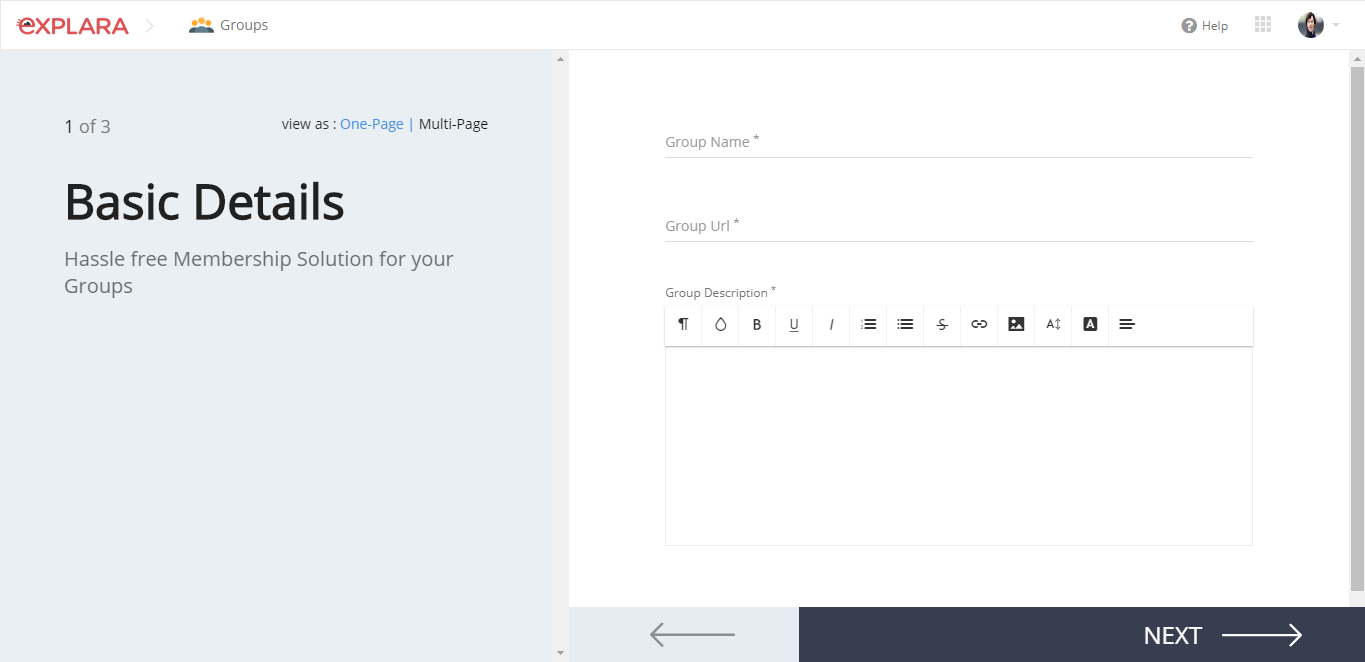 – Introducing the new interface for editing anything and everything in your Groups faster and in a beautiful way.
– Administrators/ Moderators now have the option to upload their profile picture, upload documents/ files, etc on behalf of the members of their groups.
– Now organizers can create invisible fields using (only) Textbox and Textarea fields in member profiles to save notes, confidential information and more.
– Tax system (GST for Indian organizers) is now enabled for Groups product for organizers around the world.
– Now you can track revenue and payout details in the tabular view in the organizer dashboard of Group product.
– As and when a person becomes an attendee for an event or member for a group/ community the data can can be transferred to contact manager with respect to the tag added in the event/ group dashboard.
– Organizers can validate the type of buyer (member, non-member) using email ID and enable or disable buyer form for Group Event and Non-Group Event respectively.
– Organizers can now track Tax (GST for Indian organizers) information in Incomplete, Pending and Received Payment reports.
Event Ticketing & Registration:
– Step into the future and design your own event page for Ticketing, Registrations, RSVP. Our Do it yourself mechanisms helps organizers avoid external dependencies.
– Organizers now have the option to add their own logos in the emails events sent for ticket/ registration confirmation.
Submix Paper Submission:
– Now you can filter Abstracts, Reviewers & Authors based on the topics & types respectively using the brand new filter option in the list tabs of Abstracts, Reviewers & Authors.
– Organizers, authors, reviewers can now view any abstract from manage tab without having to select the edit abstract option.
– Organizers now have the option of selecting particular authors and reviewers for sending emails about updates, follow up, and more.
– Now the organizers can accept any type of file format in Submix submitted by authors.
Explara's event technology is built for the world to nurture sustainability and foster growth. Try us for free. Book a 20-minute demo today.

Comments
comments