We heard you! You are using various email tools like MailChimp /MadMimi, SendX, Constant Contact, Campaign Monitor, Self-hosted Sendy and more such email software for your events. They are not deeply integrated with your event registration /management software. Therefore, the email analytics doesn't reveal key info about your event ticketing /registration funnel.
We solved this with Explara's all-in-one integrated approach by launching a Marketing Tools suite, this will help you gather insights from start to end i.e. from email marketing to event registration and continued engagement beyond the event.
However, Email Campaign is just not the only thing you need in event marketing. Event Marketing can be an intimidating task. It encloses a wide variety of controls, which in return requires a great deal of work over several teams inside an association.
Endorsing a significant event or conference can now and again feel like you're scaling Mount Everest on a Unicycle sans oxygen, however, with the correct strategies and tools, you'll be ensured accomplishment.
This product new release talks about such few tools for your event which would help you to grow your database (attendees, members, volunteers, sponsors, partners and more), engage them with your email campaigns, brand awareness and grow your event amongst the audience.
Marketing Tools is a suite of tools consisting of:
Email Campaign

Contact Database

Email Newsletter

Subscription Form Builder

Event Survey
& More coming soon in this suite
New Email Builder Feature added
You have a list of people or attendees you want them to attend the event but you are fed-up of making changes to the designs made by an agency. Then this is the perfect tool for you. Design your emails the way you want it to look like. What you need to do is just signup if you are a new user or login if you are an existing user. Then go to solutions page and explore the Marketing Tool section. Once you enter, you will be able to see this.
We have given options for creating a template as well. See how it works.
Click on Create Template and choose from the given formats. Don't forget to give a name to your template.
Drag and drop the section you want to add. For instance, text, image, button etc. You can anytime delete or modify them. Once you are ready with your template, send a test mail and check whether it's all correct. And if all goes well, Voila!! You are all set to go.
Conversion of Contact Manager to Marketing Tools
If you are our existing client, you might have noticed that we have changed our contact manager to marketing tools. Contact manager features are all part of marketing tools.
Upgrade
Here are the features we upgraded.
Help Articles
We have ramped up Help Articles for you to Do It Yourself.
187 articles for following solutions
Explara Account

Event Ticketing /Registration

Groups & Membership Management

Marketing Tools & Email Campaign

Submission Workflow

Survey

More coming soon
You can access help links inside Explara help icon and /or visiting on https://help.explara.com/
We have produced help documents for your assistance. We have answered a question which a user will find helpful if they get stuck somewhere while creating an event or further. If that does not help, we always have an active team to help you during the demo. All you have to do is schedule a demo with us or further assistance. Wondering where you will find the help page. It's present in the header of each product page.
Changed Remaining Old Email templates for the Event to new UI
The UI of the email templates has been given a new look.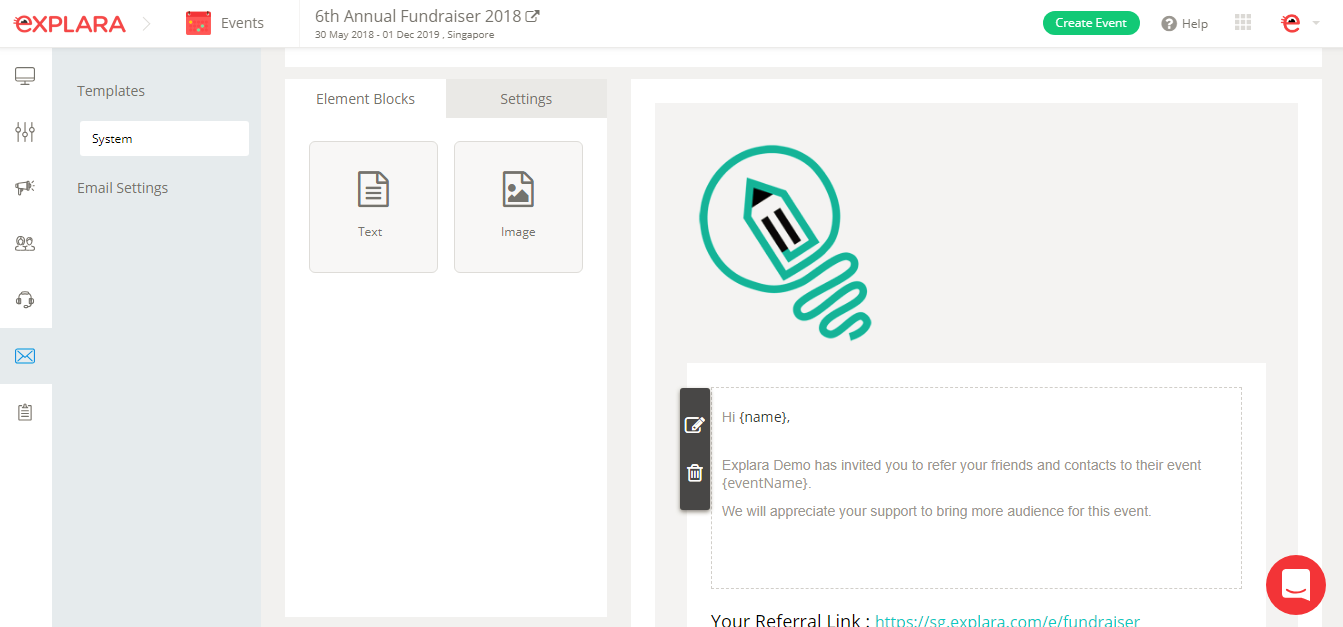 Be ready with your communication plan well in advance. Various kinds of messages will call for various audiences. Update messages to those as of now RSVP'd won't be appropriate and individuals you are as yet pitching tickets to will require these successive updates to look after buzz. If you set up your email planning and designing before time, you'll be better set up for accomplishment over the long haul.
Do let us know your feedback, we would be happy to solve your queries and issues in our next updates.
Comments
comments